This is a project thread showing how a carb can be altered for specific applications. The carburetor is for a well known builder and racer who needed a richer piece for a monster GX200 drag engine. This is a large bore Italian PCR carburetor and was too lean for the racer. The first thing you will see is the map of the wet side showing the size of the circuits and needle holes. One problem we saw is that the low side needle hole is not very big and does not allow sufficient fuel to flood the low side well. The first thing to do is to mill a trench and enlarge the hole.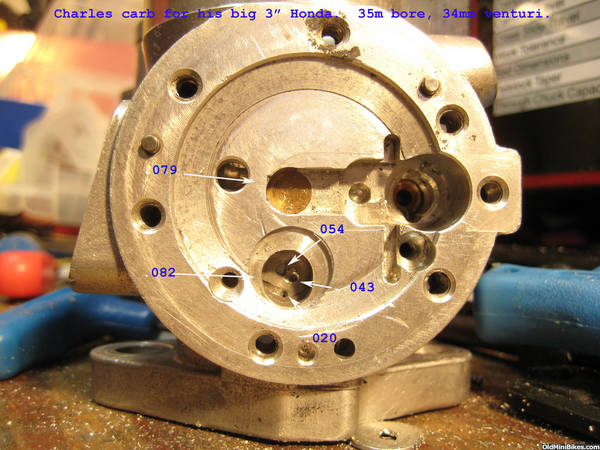 In the next picture you can see the trench milled and the low side hole opened up. this will dramatically increase the volume of fuel to the needle holes. What you also see here is the three holes in the fuel well plugged. this was done by tapping 0-80 and 1-72 threads in the two larger holes and using brass screws to plug. The small .020 idle circuit was plugged with .020 carbon fiber rod coated with marine epoxy. The well was then cleaned up with an end mill. Keep in mind this is all being done in ahole the size of a penny.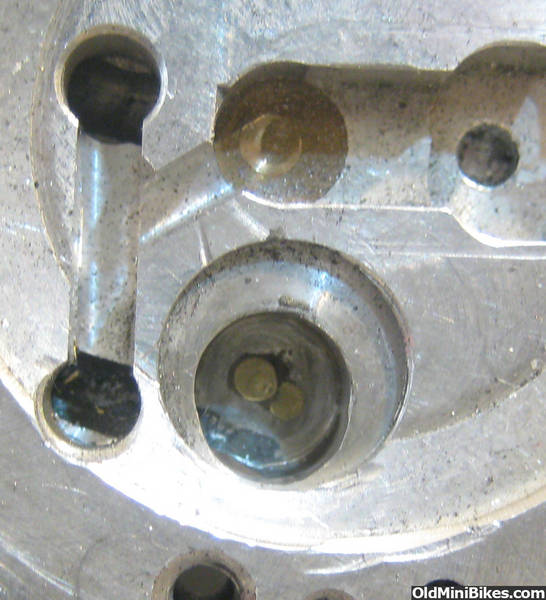 The reason for plugging these holes (which are drilled through to the bore) is so we could fabricate a nozzle to allow a larger fuel dump on launch and to get a better signal off the bottom. The nozzle was made out of a brass machine screw. A .125 hole was drilled in the well as far aft as possible. Then it was tapped and the screw inserted with red loctite so that it protrudes .040 into the bore of the carburetor. Once the hole was drilled to .082, the nozzle was milled flat and a small chamfer was cut for better flow.
Nozzle installed: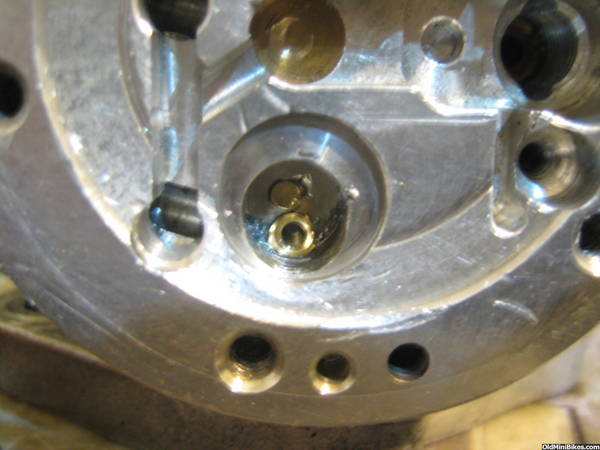 Nozzle as seen in bore: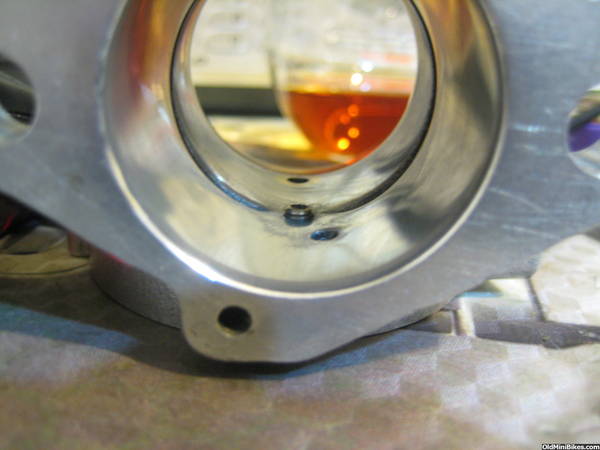 This custom blueprint job is the stuff I enjoy doing since it will be used for flat out racing. Using a nozzle on the low side is not something you see very often. I got the idea from another carburetor I did for the same customer. It was a swiss carb and works really well for drag racing. I will post more alterations made to this carb as I go along. The real test will be on the track, so we will have to wait and see how things go. thanks for reading.
Anyone who needs any help or is looking for special work on Tillotson or similar carburetors can feel free to give me a PM.