Hello,
This thread will concern the "project and ride" of the General Lee minibike that has just been build. With all of it's problems and ups and downs, like a project is meant to be.
The build can be found
>>>here<<<
. Pictures of the minibike since it has been build can be found
>>>in this album<<<
.
Since it's already build, I'll post any ongoing, regarding this minibike in this thread, so here it goes...
This was my first minibike build with a torque converter. A Chinese TAV2-30, if I'm right.
I'm running this torque converter with a 15T sprocket and a 85T rear sprocket (at the moment). I have made the sprocket myself, as I couldn't find any torque converter sprockets for #219 chain.
I really like it compared to a centrifugal clutch, it accelerates much better and doesn't seem to bother to leave with WOT (spinning tire).
So far so good.
After I did a full throttle "burn out" in the dirt, the engine stalled and wasn't able to start again. The torque converter was stuck/engaged.
All of a sudden it was disengaged and I was able to run it again. Problem solved for now.
I did some reading here on the forum and read about cleaning the torque converter and apply dry moly lube, so I ordered a can of CRC dry moly spray of which I think it's the correct stuff?
This is what it looked like after I took the cover off. Lots of rubber. I had already taken the driver off here.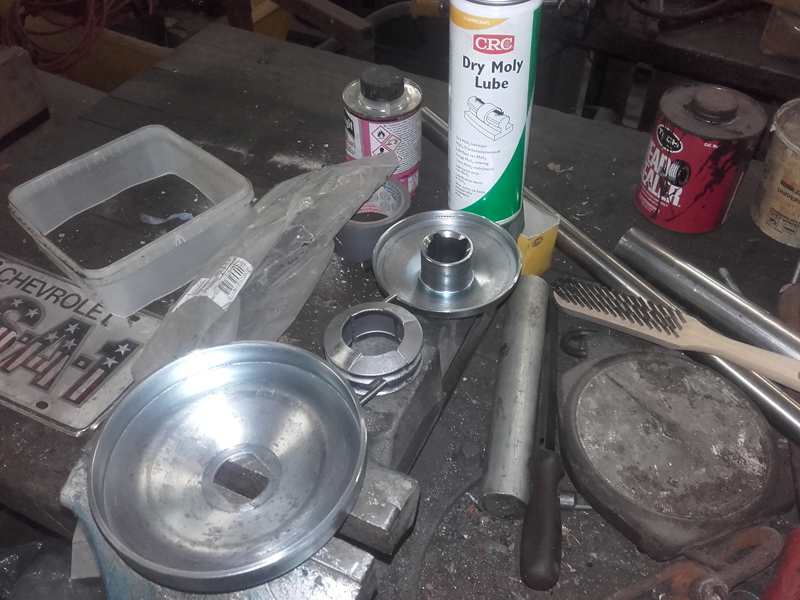 I have cleaned the driver with scotchbrite. The movable sheave didn't seem to have had any dry lube on it, like the other sheave did. Maybe someone in China forgot about it.
I sprayed both (inner sides) with dry moly lube and also the "bushing" where the movable sheave slides over. While these parts were lubed and sat to dry I went onto straightening the back-plate.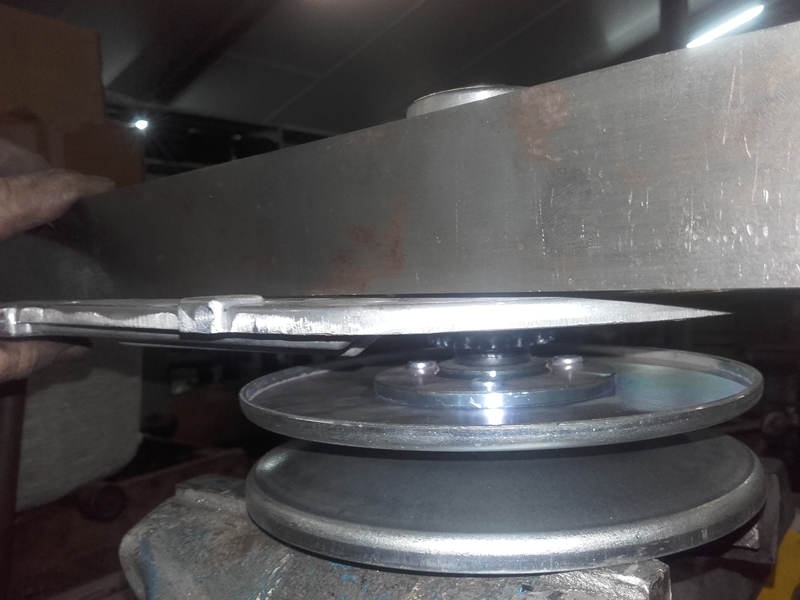 I noticed the back-plate was not straight. It wasn't when I mounted it, but I didn't know at that time. Right now I measured it with a straight bar and it was off about 2-3mm. This meant the secondary shaft was not parallel with the crankshaft. That can't be good.
So I made it straight again, the Dutch way! First I marked where I had to bend it and gently used a shop press to put a little pressure where it needed it. I knew the cast aluminium back-plate wouldn't take much, before it would brake, but it didn't need much and didn't brake.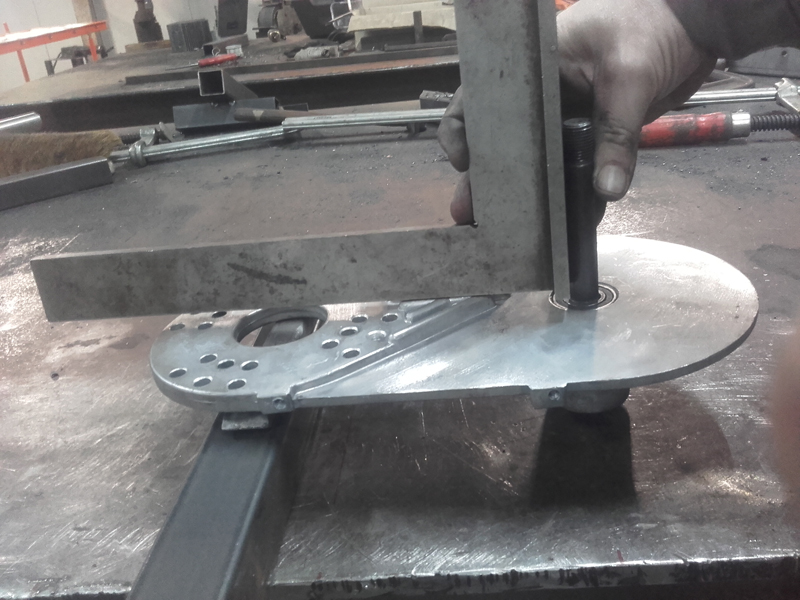 Check, check, dubbel check. Checked it with this tool, a caliper and a straight bar. In my opinion it is as straight as it should have been. Time to mount it again.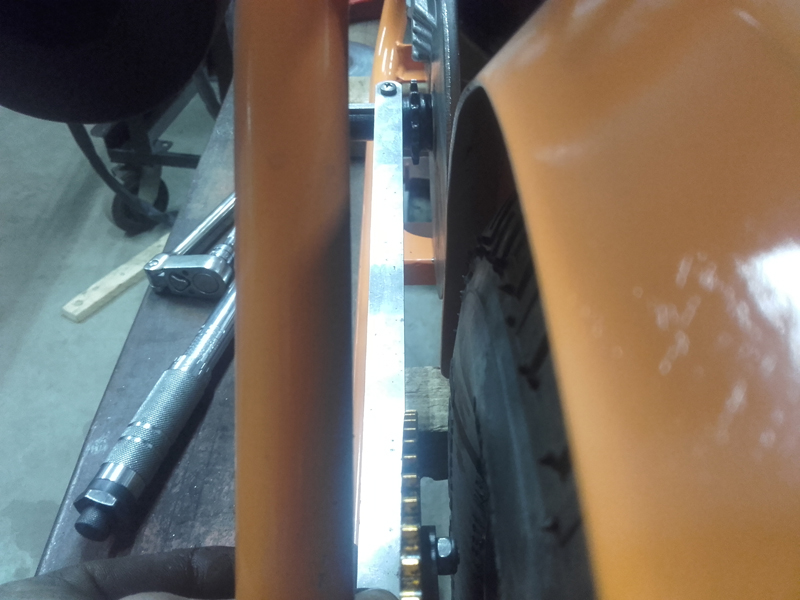 I needed to line up my engine with my rear sprocket again. When I mounted the (now straigth) back-plate again, I saw it was not flush with the engine. Because it was now straight it interfered with some engine part that I had to grind a bit to make it flush.
With the freshly lubed (CRC dry moly lube) torque converter it ran great again, without problems. Until...
I noticed that the torque converter was a bit "sticky". I noticed that it didn't always disengage complete back on idle. Sometimes it did and sometimes it didn't. I also noticed a "plinging" sound, before it disengages (the movable sheave jumping back to it's idle position appeared to have made the "plinging" sound).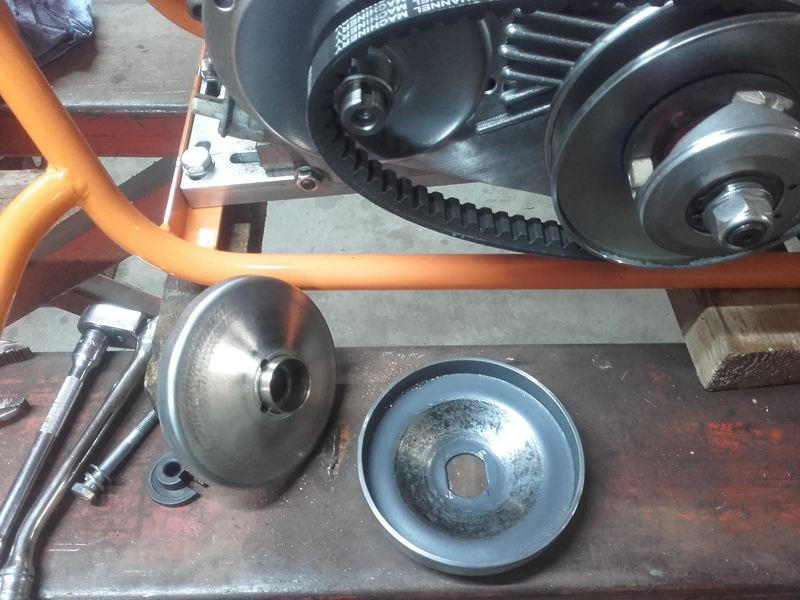 So I took the driver off, when it was not complete disengaged, and took it apart. And pictured above is what I've found to be the problem.
PS: Is it normal for the driver / the applied dry moly lube to look like this after 1-2 hours of driving?
The problem I'm referring to is the bronze bushing stuck in the movable sheave. With the bronze bushing stuck in here, the movable sheave can't retract complete to it's "idle position", because the bronze bushing "hits" the 4 splined hub driver. This results in the belt to be a bit to tight on idle, or in a worse case it might be way to tight.
I have searched this forum for a similar problem, but didn't find it. I did find a lot of bronze bushing problems, but nowhere that they were stuck.
The bronze bushing's fitment on the inner sheave is made with Chinese tolerances. I guess the outer diameter has grown a bit since it's used, which makes it to fit tight in the movable sheave once the engine revs up and the movable sheave moves towards the bushing.
I mounted the driver again, without belt, to see what's happening when I rev the engine. The movable sheave, moves toward the engine and bushing as rpm's increase and it moves over the bronze bushing when rpm's keep increasing. But with a bronze bushing that has grown or is to tight on the outside; it gets stuck in the movable sheave, which is unable to retract again to it's original position with an engine running on idle.
I will have to look for a new bushing and will need a couple of spare ones also. Perhaps there are other types of bushings that I can make to fit and see how that works out.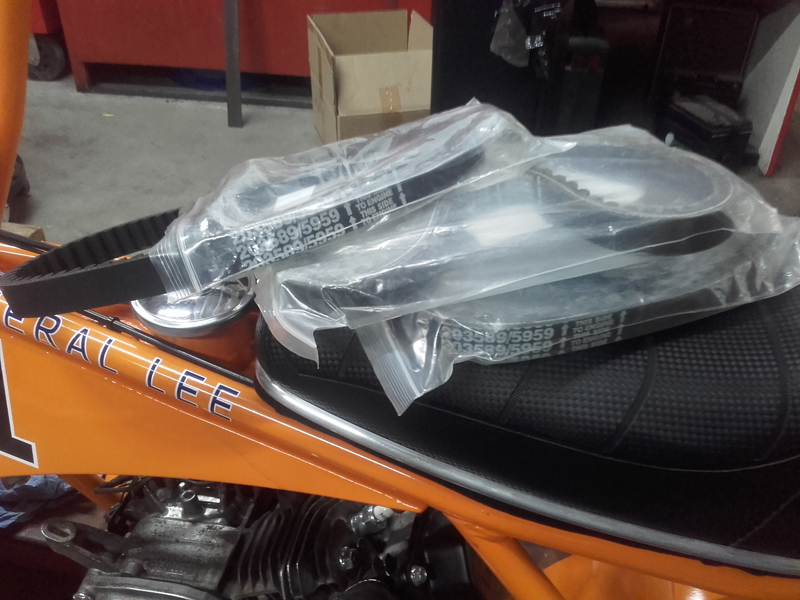 I already have 3 spare belts at home. €20,- / 3 pcs including shipping. And some more are on their way, too.
More to come.