Hey all,
Thought I'd make a little restoration thread as I haven't done one in some time.
I'm currently working on an early 60s H25 that was partially stripped by the previous owner and thrown in the corner of a shed. Many years later it sits on my work bench, in more than a million bits :laugh:
I bought this little motor at a swap-meet for virtually nothing at all, and bought it as another parts engine. Took it home, cracked it open and found nothing but clean internals and immaculate journals. Not to mention the Cast Sleeve and Bearing Crank!
So here we are. I've given the block a quick sandblast and clean to lighten the mood a little and clear the way for fresh paint and good intentions. An HS40 was sacrificed to bring this motor back to life, so almost more than half of the parts on this engine are from the HS40.
Does anybody know of any small tricks to get a little more power out of these little tecs? Valve springs? Porting? Milling the head?
Also, I found a neat little carb that I picked up on the same day I got the tec. I'm sure it's off a 2 stroke, but would it be any good on a tec? Bore measures roughly 15mm. I have no clue as to what it is. It has no brand markings, nothing. Looks old. Only numbers on it read 028A LF. Any help appreciated. Will upload photos soon-ish!
Tonight I had a go at spraying some cheapo enamel black through a tiny model car spray gun. More than happy with the results! Sprayed the Shroud mounting bracket, back plate, bottom tank bracket, and cyl head.
One more thing -- was there any difference between the H25 and H30? They seem to share identical torque/hp ratings and sizes.
-Jack
Left: 1973 HS40 Right: H25/30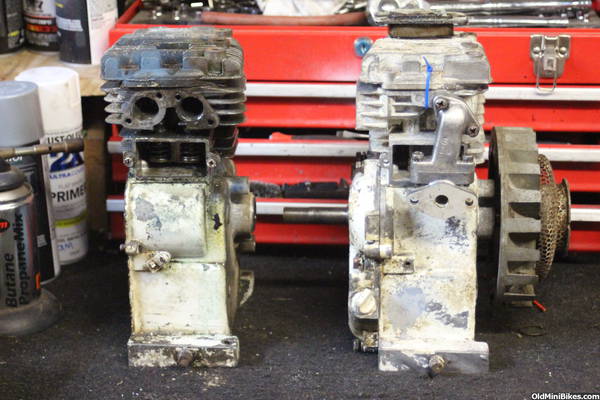 Last edited: