After stumbling upon the photo of the bike below I added it to my Freaks/Oddballs/ Kustoms thread…but after reading up on the "TRAG" I found the story behind it to be quite interesting and decided to create a thread for it in hopes that others on here might find it interesting too. Maybe some folks can add to the info…who knows, maybe one of our members even has one of these jobs stashed away. :thumbsup: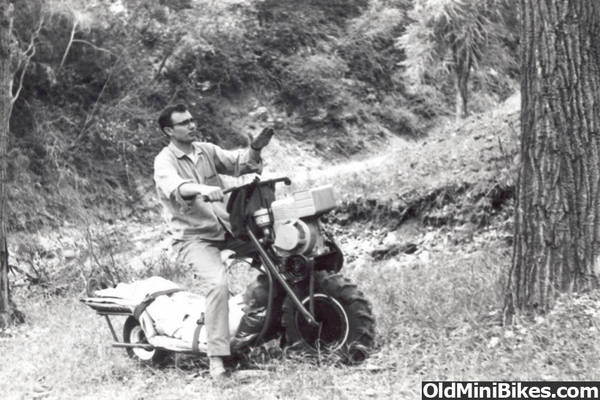 The guy on the bike is Earl Miner...here's a little more info:
The TRAG is a quarter-ton mini-truck designed for transportation and agriculture in developing nations. Based on work done by Earl Miner since 1960 on front-wheel drive modular motorcycles, the TRAG was as simple an engine-powered vehicle as possible. It proved to be highly practical, efficient and durable when working under rough conditions. It could be quickly converted from a pick-up truck into a cultivator tractor, and from a 2 wheeler capable of being ridden on trails to a 3 wheeler. The TRAG was designed to be built even with low capital investment and unskilled labor, and fabrication centers were set up in the mid 1980's, in Rhodesia by Earl Miner, and in Peru by Rod Miner. TRAGs can be found in over 40 countries world-wide.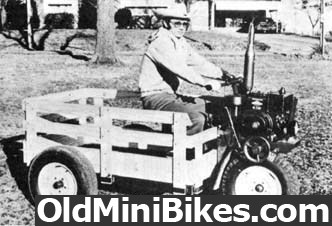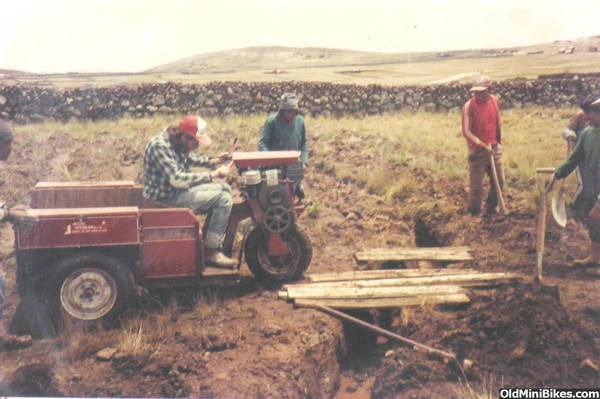 The TRAG (TRansportation-AGriculture) is a three-wheeled vehicle powered by an industrial 8 HP Briggs/Stratton engine, with a built-in six to one speed reduction. Kerosene and diesel engines have also been used. Power is transferred to the front driving wheel by simple 'V'-belt mechanism. By the use of a quick change (by hand) drive chain, a total of six speeds are available.
The midwest farm family could scarcely imagine itself without the versatile half-ton pick-up truck. The 'pick-up' hauls grain, fertilizer, livestock, supplies, and the farm family itself. It is used for money-making and recreational activities. But around the world in most agricultural areas of what has come to be called the 'Third World', transportation is limited to the feet of the farm family. Even the picturesque and efficient ox-cart is not as common as our postcards would have us believe. Water, wood, fruit, grain, lumber, etc. are all carried great distances on the heads of women and the backs of men. Children start at a very early age to carry awesome loads, often at the expense of schooling.
A simple machine, being produced by The United Methodist Church in Missouri, can change all of this, according to its designer, Mr. Earl Miner. A couple of years ago Mr. Miner heard a native pastor from Zimbabwe (Rhodesia) speak at a church meeting. The pastor, Mr. Arthur Kononuhwa, spoke of the great need for simple transportation in his native land. It so happened that Mr. Miner, a United Methodist layman and a professional inventor/ product designer, had already built and tested a simple machine he felt would meet that need. In consultation with Mr. Kononuhwa and with Bishop Dodge, from Africa, Mr. Miner built a machine and sent it to Africa for the Kononuhwas to test. By this time the project was an official project of the Office of Creative Ministries of the United Methodist Churches of Missouri.
The front drive unit disconnects from the two-wheeled trailer by simply pulling a pin, thus allowing for a great variety of pulled appliances. The speed of the unit ranges from a slow crawl to 30 mph. The unit has no shock absorbers or springs. A relatively smooth ride is obtained by using a low-pressure in the tires (6 to 8 lbs.). The unit has a friction brake on the drive unit and simple 'scrub' brakes on the rear wheels.
Every effort has been made to keep the unit simple, realizing the lack of mechanical sophistication in many areas. The electric and recoil starter possibilities have been discarded in favor of the simple rope start. Lights run off the generator, so no battery is necessary. The air-cooled engine is 'up front' where maintenance is easy, and where dirt will not collect.
Last edited: