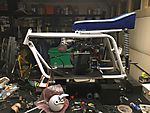 We are building a George Barris Tribute bike to use as a rider for Windber 2017.
This is 1 of 11 George Barris bikes in our collection.
BIG Thanks to everyone who has helped us acquire the Barris mini bikes and parts lots over the past 2 years.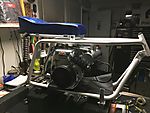 It is a true Barris Super Stocker with the BBT twist.
The twist: 5 HP plus chrome Briggs engine.
White powder coated wheels with polished bead and chrome studs with acorn nuts.
Custom artwork on front badge and clutch cover
Blue flake old school vinyl seat.
Frame and fender decals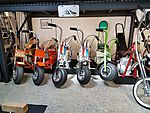 Last edited: