Hi,
After building 3 minibikes from scratch, it was about time for a road legal "minibike".
I came across a used 50cc Skyteam skymax on Dutch marketplace and it had a moped license plate (<50cc). I went over to take a look at it and took it home.
It will be my new "project", as it has several flaws.
Skyteam is the Chinese brand and skymax is the type. It's a replica of the Honda ST or CT. Also called DAX (from German: "Dachshund").
It is 50cc, 4 speed (1-N-2-3-4), manual clutch.
This is how I bought it.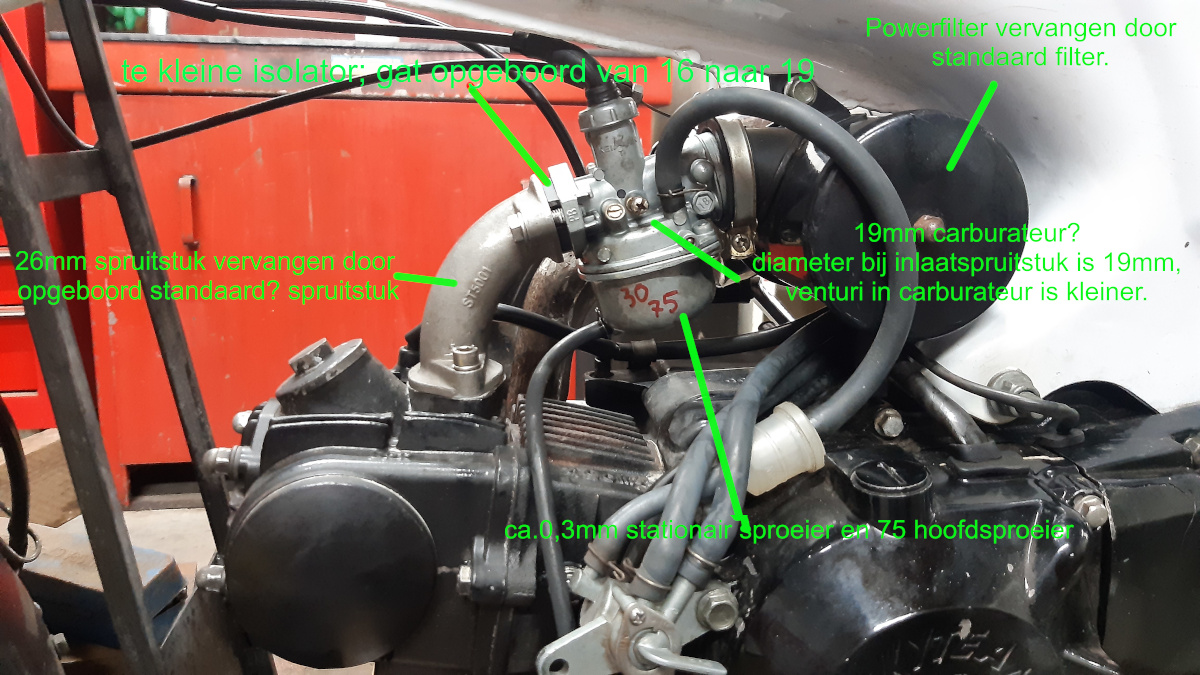 As mentioned it had some flaws.
I has a 16mm carb (venturi ~16mm) at intake it is 19mm. The isolator between carb and manifold had a hole of 16mm and the manifold installed was 26mm. Hole in cylinderhead is ~18mm. I have replaced/drilled in such a way that it is 19mm al the way to the cylinderhead.
I replaced the bad powerfilter with the stock filterhousing.
With the key ignition switch "on" I am able to take the key out, which is not good and I can loose my key that way. So I will replace it or create something else for it.
I don't have a key for the steering lock and as I won't use it, I will cut it all of to get a cleaner look.
There are also some "aftermerket" holes in the frame, which I will weld/close.
The previous owner was really handy by creating his own "connectors" with zip ties.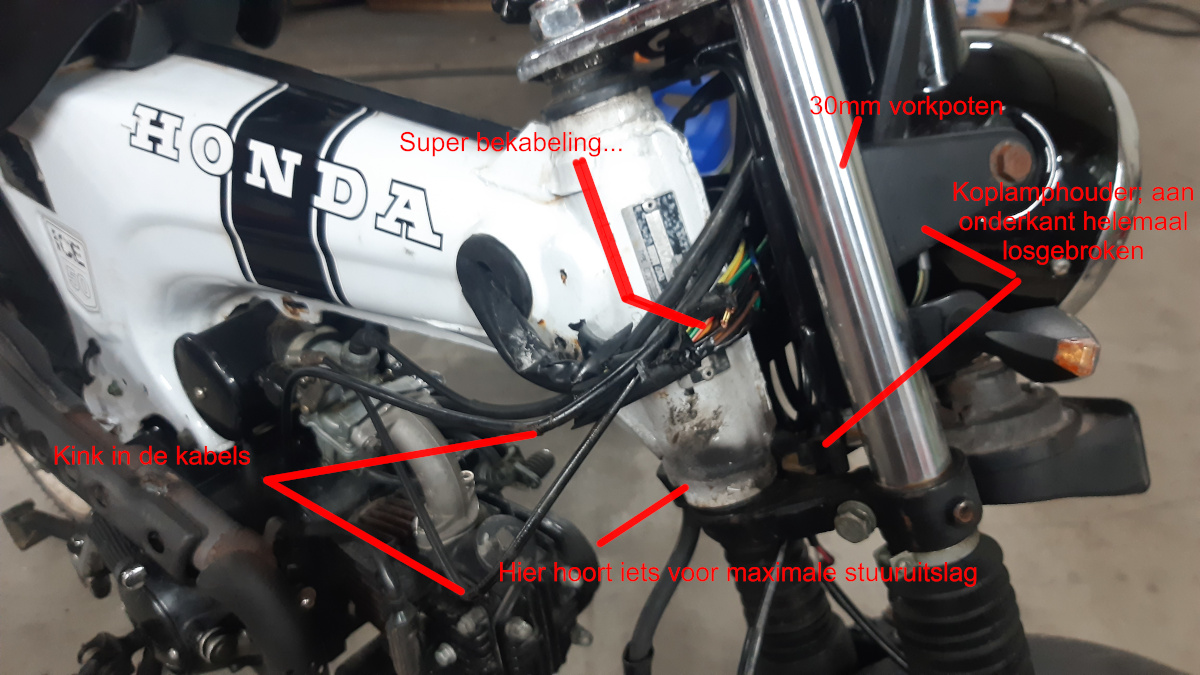 I will replace the cables, as they are damaged.
The max. steering angle bracket is gone. So I will have to fab up a new one.
The headlight holder is broken of on the bottom.
Overall condition of wiring is bad.
It does have 30mm front forks.
I have mounted the original exhaust again for a couple of rides I did with it.
The taillight is missing it's glass.
The seat seems to be mounted of center.
I have sold the exhaust by now. This exhaust had to little ground clearance in my opinion.
Wheel bearings were bad, so I replaced them with new bearings. But as the hub bore was damaged I got slightly larger bearings.
I did have to make the bore larger. Good thing, because now I made the wheel bearing bore center with the sprocket. It was not center.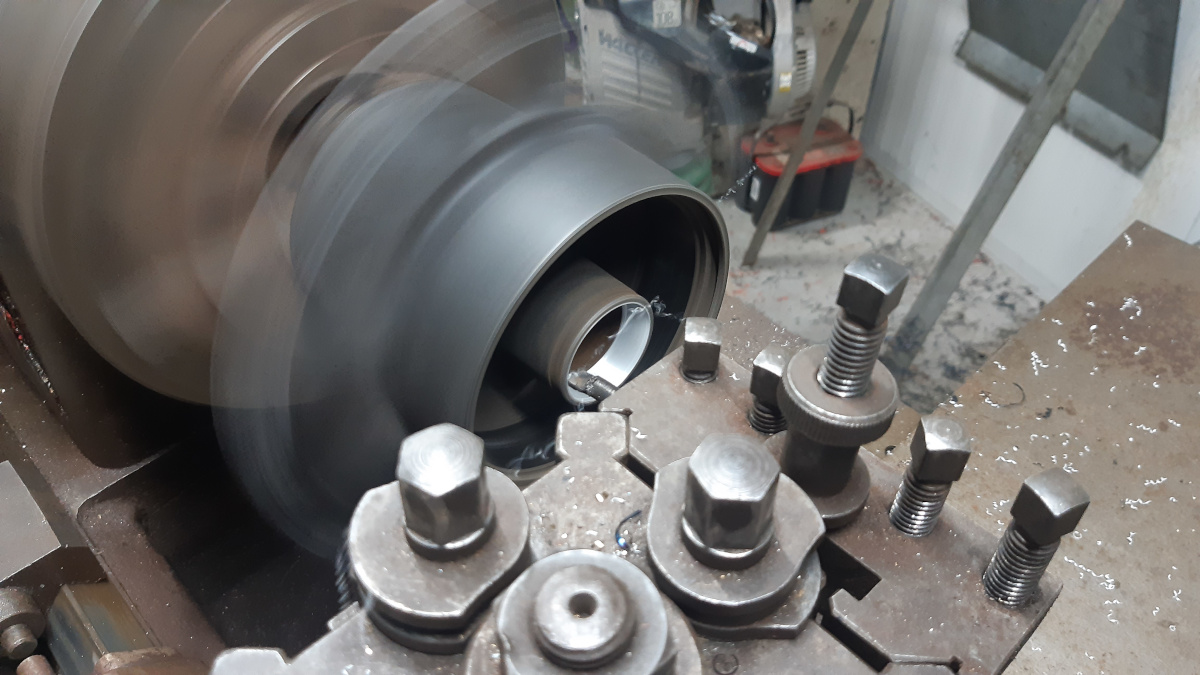 Making a bigger bore.
Also made this shaft/axle. The new bearings also have a bigger inside diameter. That's why I need this shaft/axle.
Pre heating the hub before installing the bearings.
New bearings installed.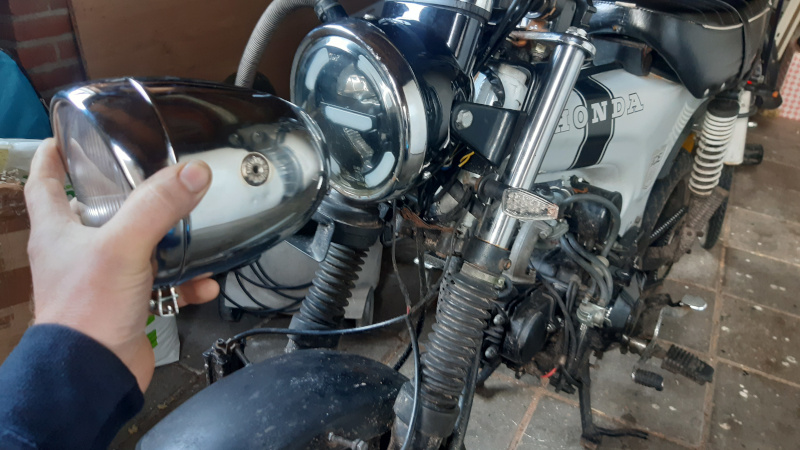 The LED headlight (Kepspeed unit) has a not functioning "High" light. As this is a LED unit it is not possible to simply replace a led bulb, but you have to replace the whole unit, which is around $40,-.
That's why I will replace the headlight with a headlight of a Puch moped. I also do like the Puch headlight over the LED headlightunit.
The Puch moped headlight accepts BAX15D lightbulbs originally, but I have found a BA20D fitting that fits the headlight. There are a lot more (affordable) BA20D LED bulbs as there are BAX15D LED bulbs.
Not sure yet, but I'm thinking to put this start button switch in the hole where the key ignition switch is located now. A new key ignition switch will have to be located somewhere else.
I have found this nice set of fork boots, which will replace the damaged fork boots that are installed now. The red color will match the new colorscheme.
These little LED "flowing light" blinkers will replace the current blinkers, which I found to be to big.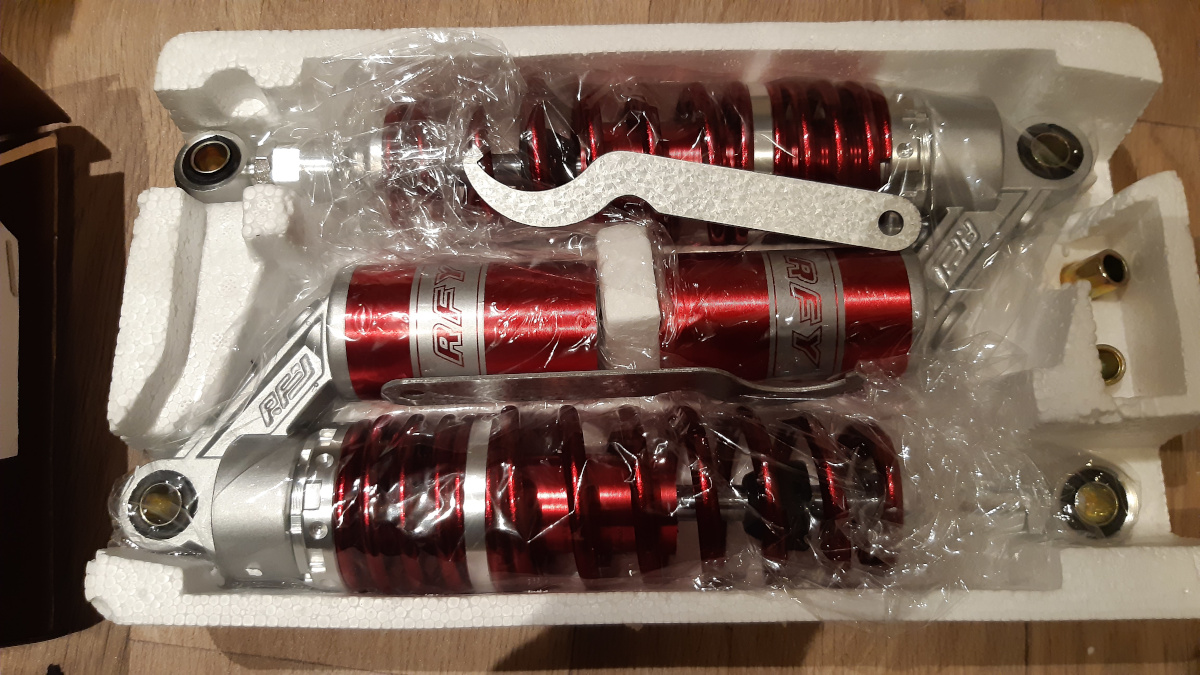 $50,- including shipping for a pair of new shocks.
The previous owner did have some soldering skills.
Sold the headlight and digital speedometer. The speedometer was inaccurate by 10-20%...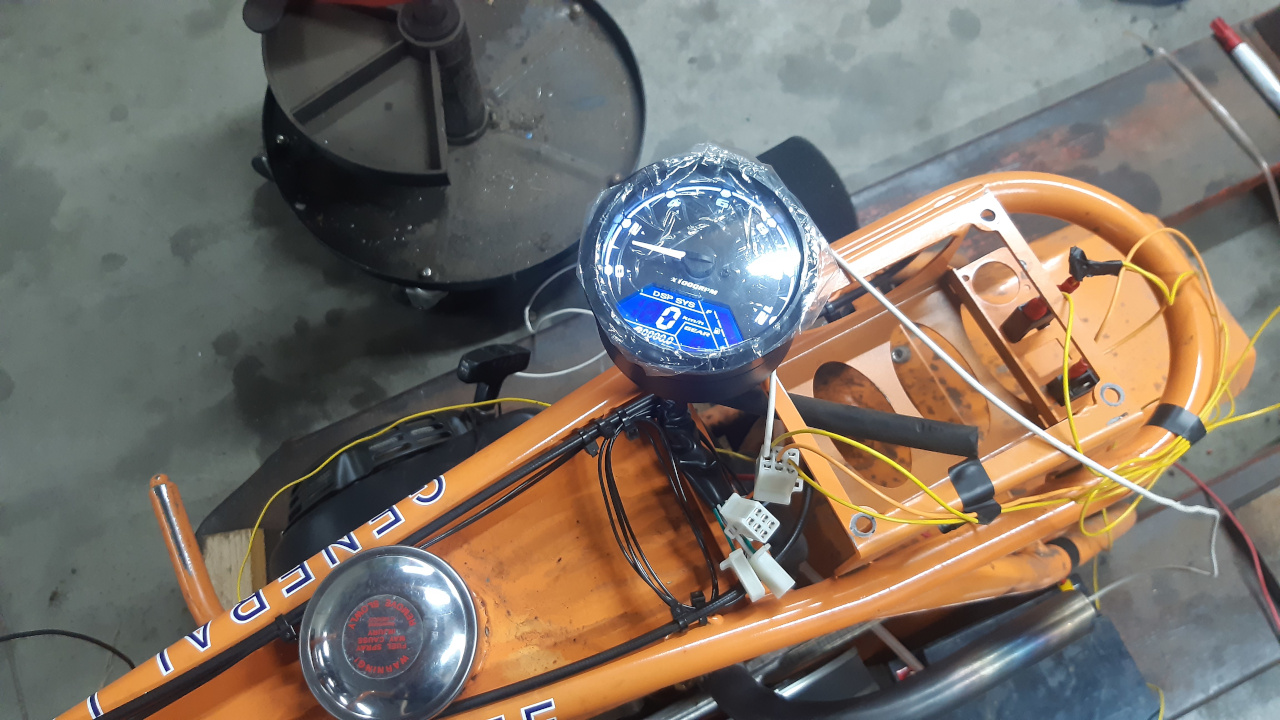 I am thinking to put this tachometer/speedometer on. It also has the ability to monitor fuellevel, but that requires a fuelsensor. It indicates which gear is selected, neatral light, blinker light, etc...