Todays Headlight and battery box class...
This kit your showing that is a 70's or so later model light kit PN 16849 out of the package. It's completly not a stock item for the 64 thru 66. Notice this has a web type mount on the back of the headlight. The headlight is completly re-designed in the later model and they done away with the old dual battery system to a single battery box system - it does look like it has a nice chrome box though... Impressive light kit I think !!!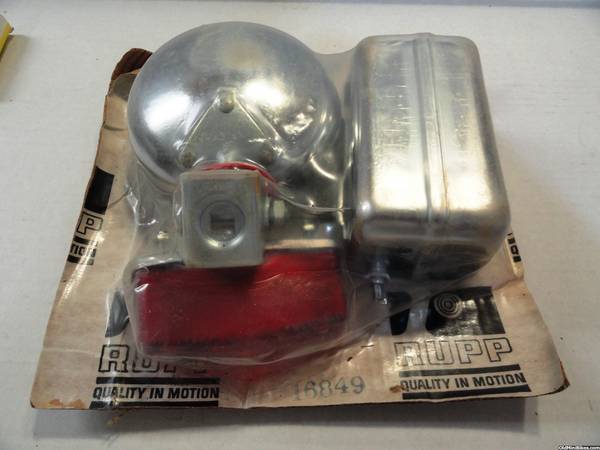 Now this is the correct headlight for that era 64 - 66 it has a different mount that requires a small solid metal square stock drilled out in a T pattern inside of it to mount with and utilizes the Rupp factory pre drilled small hole on the top front fork triple tree plate and a little bolt goes through it and screws into the square stock light bracket as the following photo's show.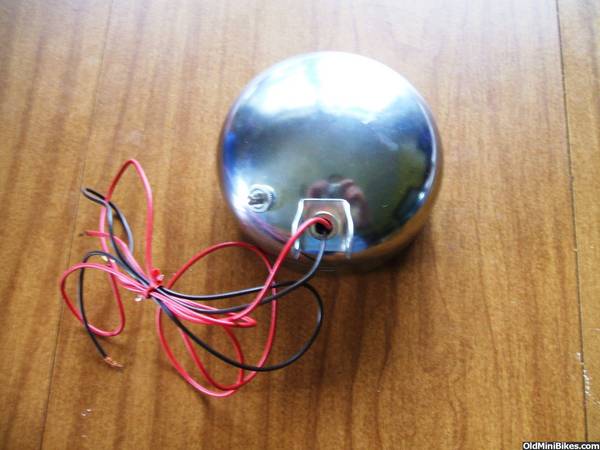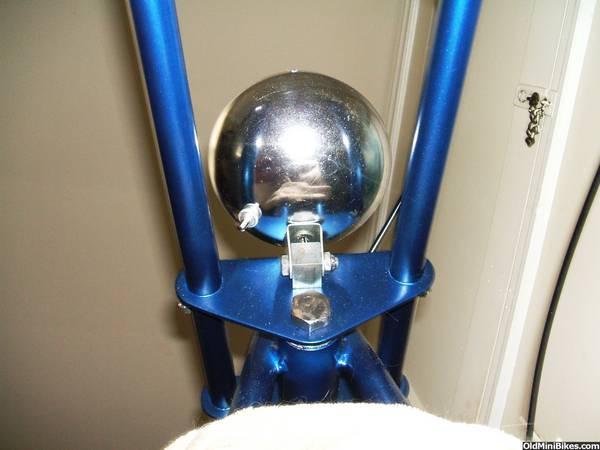 Now you can note how the later model mounts with a mounting bracket that's held on by the neck bolt. You will also note that the headlight switch is mounted optional small battery box in the above photo's.
What's trick about these headlight buckets are is the 4 in 12 volt solid glass headlight bulb fit's in these with no problem at all - so those of you that have 12v charging coils in your motor you can run these headlights...
Note the headlight Levit electrical light switch was installed by me into a more modern headlight housing with the flat plate mounting bracket so that's not stock for my other Continental bike I have - but running dual batteries I had to install the switch into the headlight housing. Anyway it's completely wrong for my 1965 Rupp - I'll take it off because I found another correct light for it not long ago.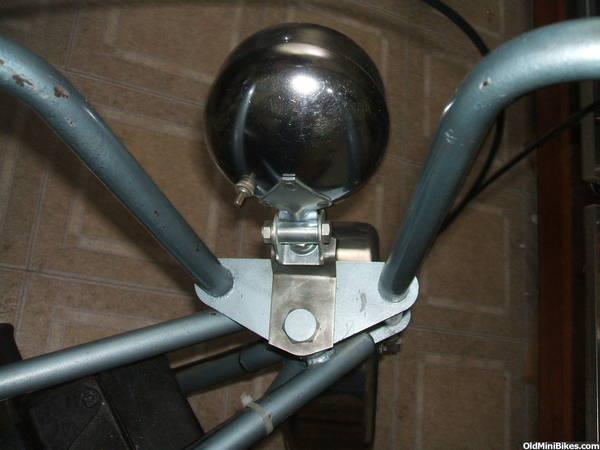 Now here is a original U clamp that holds the dual 6v batteries in under the seat pan.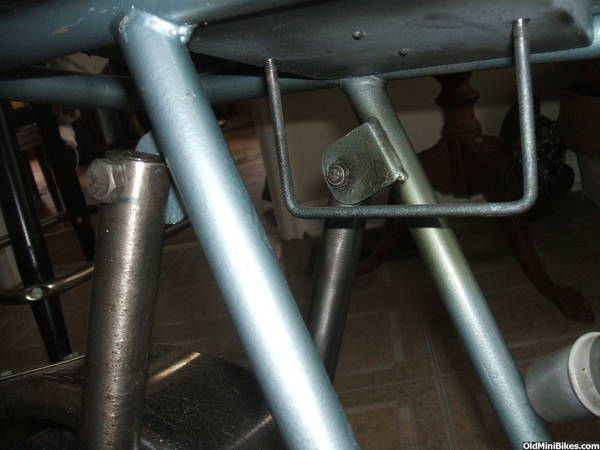 Now here is the litterature from O.E.M Cyclops mfg - showing the old Rupp hardtail Continental Special frame. These kits were made by Cyclops mfg for Rupp. But also sold 6v kits for bicycles and even Skat Kitty used them too.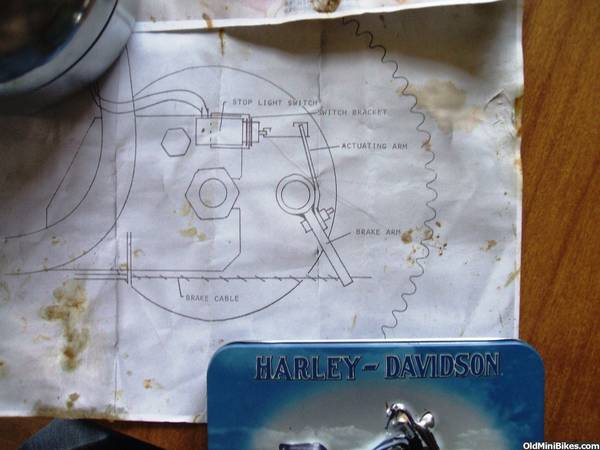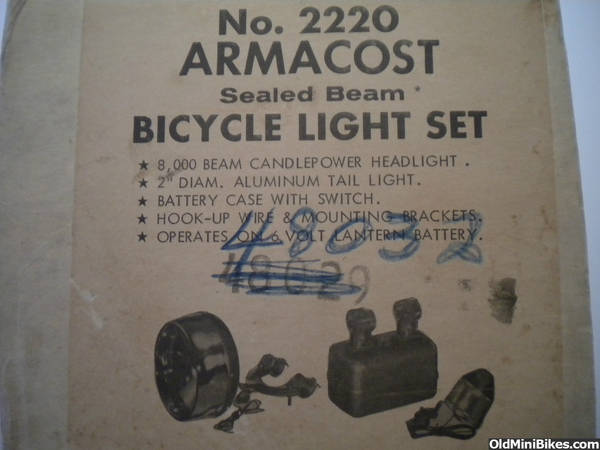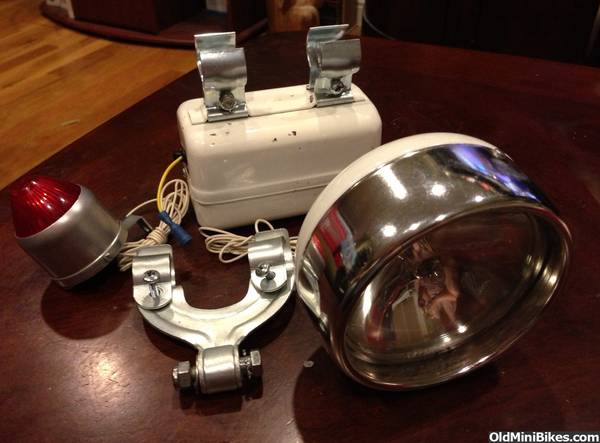 and someones Scatt Kitty with the Cyclops headlight mounted so it was a very universal light kit - the headlight even shows up on the late 1950's era Ray o Vac sportsman 6v fold away lantern - does that "Headlight" look familar.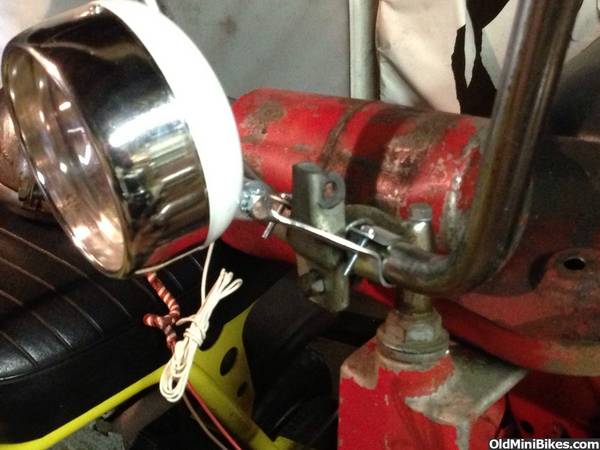 My Rupp has to have a chrome tray of some type that Rupp used - other wise the dual 6v batteries will fall out because the battery wires up at the back of the bike. I'll have to make a chrome tray for both of the bikes I guess.
Here is a pic of a 64 with the dual batteries... Nice Red Rupp Continental with a nice play bunny sitting on it and old neat looking side exhaust tecumseh sitting in the cradle...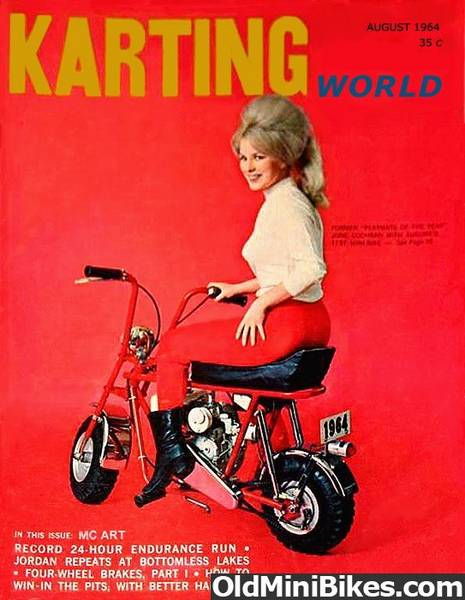 But Thank you for the reply !!! :thumbsup:
Last edited: