Btw, Nederlander here too but living in Sweden, I moved here 18 years ago.
Sweden is a nice country, we've been there several times, back when I was an active tractorpuller. Those tractorpulls in Sweden were mostly in the south of Sweden (Hörby), but we've been at a tractorpull in Sundsvall, too. That was a long drive... Same as when we had a European championship in Finland, we had to drive from Malmo to Stockholm and take the ferry to Usikaupunki (or something).
My minibike is near completion (as far as that goes) and will get some paint on it soon. Some small, time consuming, parts are being made in the workshop. Grinder and welder are being used well lately.
As the Honda GX160 has some kind of lighting/charging coil, I will put a small battery on it with a rectifier/regulator. Let's see if it works... The 12V will power a tachometer, I ordered from Ebay.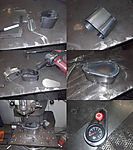 A small dash is fabricated to house the tachometer, On/off switch (normally open and normally closed) and LED indicatorlight.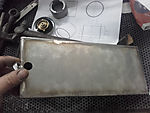 I welded a M10x1,25 nut on the bottom of the custom gastank to adapt a fuel tap.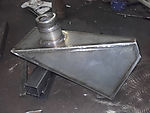 The filler necks and caps arrived from Arizona and I finished the custom gastank.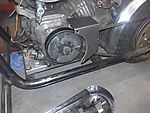 A bracket is being made to mount the chainguard.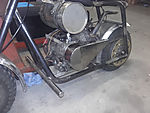 Homemade chainguard, made of thin polished stainless sheetmetal.
This chainguard is so thin, it was hard to weld... Next time I'll use thicker material and paint it. Thicker is also more ridgid.
Still need to make supports to mount the gastank and supports for the small dash. After that it's time for some paint. Colors: Silver metallic frame with red parts. And some black.
"Stay tuned"