I did say that the Rebel tank was an option.That pic of the two bikes looks like the tank is way bigger Doug, me not knowing the measurements..I was discussing this because i have seen many people questioning what they could use.Good to have more input.:thumbsup: I was not trying to push anyone to buy a tank right away.If my input did a disservice to anyone i am sorry :frown: i hope that the tank he ordered works for him..looks like choice is either a little bigger or a little smaller
Ya put the Ninja on it......
I think the tank looks bigger in the pic of the 2 bikes due to depth perception. I wonder if they would look the same size if the original Baja was in front of the MB200...
Truly there is no wrong choice. It just what the individual wants to do or have as an end result. Personally I like the fact that The Rebel tank holds 3.2 Gallons. I probably wont ever run out but I don't have to worry about running out either....
Doug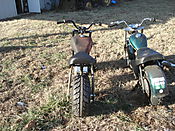 Last edited: