Thanks to the OldMiniBikes Community for again hosting this year's Build-Off. I thoroughly enjoyed participating in last year's event and look forward to seeing the progress of entrants this year. Special thanks to mrpat and Cheezy1 for again serving as moderators, as they do a great job and offer humor throughout.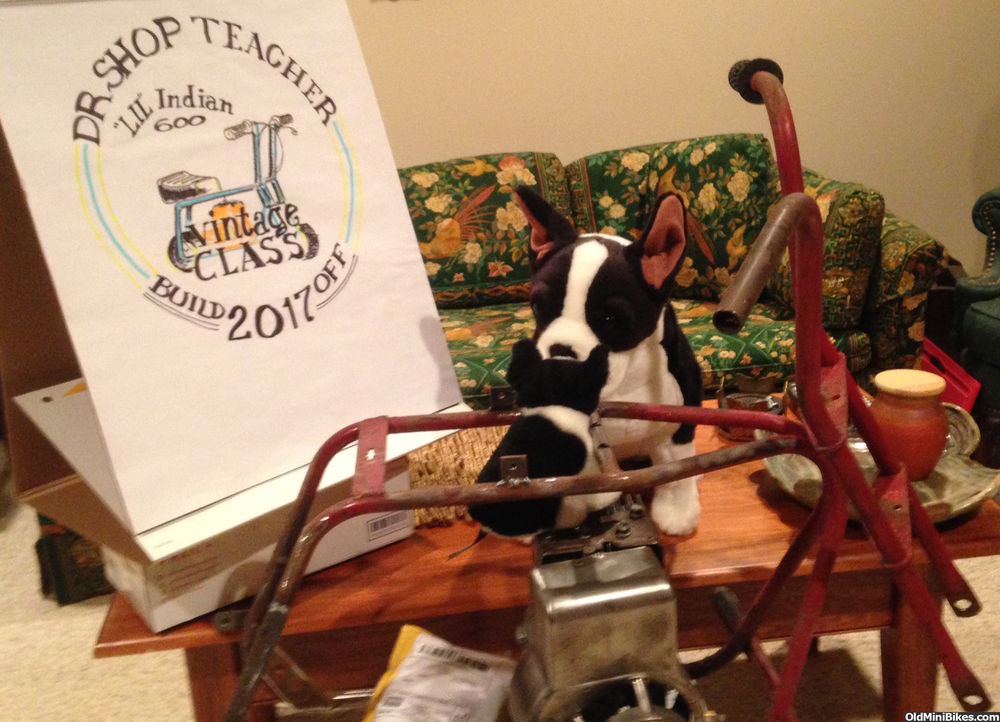 The entry is my "Run-don't-walk-to-grab" Lil Indian Model 600 that I found for $50 in July 2016 in Gaithersburg, MD. The bike is a non-rolling basket case that had a severely rusted steel shell of a front wheel and a Tri-Star rear wheel. No engine was on the bike and the PO had added supports for a PVC fuel tank and shock absorbers.
A bit of research and some help from members dates this bike to the mid-60s. Since it had a 4" steel wheel, I suspect it's an early Model 600 which had steel wheels rather than the aluminum mags. The engine will be a period-correct 64-65 Briggs 3hp (one of the "cousins" in another thread). Members have already sourced the jackshaft plate (a re-pop) and the disc caliper. I was good for Santa so Manchester1 has me on her list. Other parts are on their way or stashed already.
My jumbo sized Boston Terrier is checking in on Lil BT perched on the engine. Those of you who witnessed the video of me squeezed on my Ruttman know it's going to be a feat for me to fit on the Lil Indian. That'll probably make America's Funniest Home Videos!:laugh: